Press Release (14-03-2018)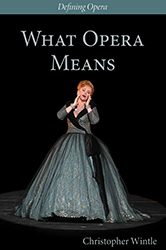 Plumbago Books and Arts is pleased to announce the launch of What Opera Means, the third in its series 'Defining Opera'. It will be held on 20 March 2018, at the Austrian Cultural Forum in Knightsbridge (London). The book is by Christopher Wintle, Director of Plumbago Books and an (emeritus) member of the Music Department of King's College London, and edited by Kate Hopkins, content producer for opera at The Royal Opera. It is available in both hardback (£45) and paperback (£15.99) from the distributor, Boydell and Brewer Ltd. The launch will include a performance of the closing scene from Richard Strauss' Capriccio by Anita Watson (formerly a Jette Parker Young Artist at the Royal Opera) and David Syrus (formerly Head of Music at The Royal Opera).
What Opera Means mounts a searching enquiry into the elusive character of opera. Arguing that any art-work can be grasped primarily through its constellation of Platonic ideas, or 'categories', the author explores several of these in light of a novel definition of the medium of opera. He elaborates each category with case-studies rooted in the time, place and circumstance of a work's origin. Although they look back to the infancy of opera, most of the case-studies focus on the relative moderns – Wagner, Verdi, Strauss and Britten; those included under 'Psychology' show the benefit of a long-standing involvement with psychoanalysis; and those under 'Performance' reinforce the author's view of opera as a branch of rhetoric. As the first of a two-volume project, What Opera Means deals with categories accessible to all: of fifty entries, only two require basic music knowledge (the second volume will be for specialists). It is suitable for college courses as well as for the general reader.