---
Plumbago Books and Arts is proud to present its new A3 pads of Music Manuscript Paper suitable for Voice-leading (Schenkerian) Analysis and Musical Composition. Each pad contains 30 sheets, 25 of which contain 4 systems of two staves and 5 of which contain 3 systems of three staves.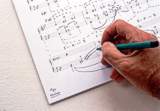 The pads, which have been designed by Christopher Wintle and Julian Littlewood, are available at £4.95 from the following stores:
Oxford: Blackwell's Music Shop,
London: Boosey and Hawkes (Britten's),
Cambridge: Brian Jordan Music Books,
More outlets will be added during Autumn 2004.
For further information, or enquiries about bulk orders with bespoke branding, please email plumbago@btinternet.com.